El Servicio de Inmigración y Control de Aduanas (ICE) ha aumentado el número de detenciones en los primeros meses de la presidencia de Donald Trump.

ICE arrestó a 21,362 personas entre enero y mediados de marzo de este año, según datos gubernamentales obtenidos por el diario The Washington Post. Sin embargo, 5,441 de los inmigrantes indocumentados detenidos no contaban con antecedentes penales – más del doble si se compara con las detenciones durante los mismos meses de 2016. El periódico subraya que ICE ha arrestado 32.6% más personas este año que en los primeros meses de 2016. La agencia también ha emitido 75% más solicitudes de detención.
The Washington Post aclaró que las detenciones de este año siguen siendo menos que los 29,238 arrestos que se llevaron a cabo en los primeros meses de 2014 bajo la administración Obama. Sin embargo, es importante entender el contexto detrás de los nuevos números. 
Son parte de un esfuerzo para excluir y criminalizar a los inmigrantes al igual que la prohibición de viajes, el muro fronterizo y el discurso anti-migratorio del presidente estadounidense.
El ex director de ICE, John Sandweg, criticó las nuevas políticas migratorias de Trump a principios de este mes. Le dijo al noticiero WNYC que la administración está buscando "las frutas en las ramas más bajas".
G/O Media may get a commission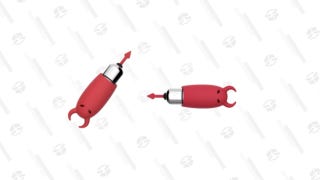 Better Love Little Devil
Sandweg subrayó que ICE está deteniendo a los más vulnerables independientemente de su historial criminal.
Muchos advierten que las nuevas políticas están destruyendo la confianza entre las autoridades locales y las comunidades de inmigrantes.
"ICE se ha envalentonado de una manera que nunca había visto", dijo el procurador del Condado de King en Washington, Dan Satterberg, en entrevista con The Washington Post. "El gobierno federal, en un par de meses, ha deshecho décadas de trabajo que realizamos para generar confianza".