MEXICO CITY – Fusion's Spanish vertical is joining the protest known in Mexico as #UnDiaSinPeriodismo (A Day Without Journalism) today. Several Mexican news websites and other outlets will be shutting down Tuesday to honor Javier Valdez, a renowned drug war reporter who was killed yesterday in the northern state of Sinaloa. We will be following suit by not publishing anything with the exception of this op-ed.

We will also be honoring Sonia Cordova, a small magazine executive in the state of Jalisco. Cordova and her son were attacked yesterday by armed men. Her son, who is also a reporter, died. She's in the hospital. This past weekend a group of seven journalists were attacked and their equipment was stolen by 100 gunmen in the southern state of Guerrero.

At least six Mexican journalists have been killed this year, and 11 were killed last year. Since 1992, some 40 journalists have been targeted and murdered in Mexico, according to the Committee to Protect Journalists. Impunity is rampant, and attacks on journalists continue because drug traffickers and corrupt politicians are able to get away with it. The reporters that are getting hit are often the ones with limited resources, those with a shrinking paycheck that still head for the trenches because they're passionate about what they do.

I don't include myself among these types of journalists. I'm writing about their struggle from a safe and comfortable office in Mexico City. I've never received a death threat, nor do I think I'd have the balls to continue reporting if someone dropped a grenade near my house or some guy called me in the middle of the night vowing to torture my family. These people, some who have died and others who continue working to hit back, are the real deal.

"It's not only a loss for his loved ones, but for Mexican and global journalism in general," says Gustavo Valcarcel, a regional manager for the Associated Press in Mexico, about the murder of Valdez.

G/O Media may get a commission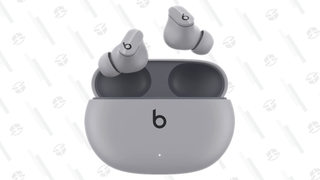 "When they kill one, they are really killing all of us," he says. Valcarcel, who's worked as a reporter in Mexico for 26 years, respects the protest but says now is the time to become louder. "We cannot stay quiet today, and if they want that they will have to kill us all."

But for others, remaining silent throughout this day may highlight journalism as a civic duty and service that people shouldn't take for granted.

"This climate of violence in which journalists are threatened and killed comes from a lack of protection, political will and negligence from the state," Erika Guevara-Rosas, Americas Director at Amnesty International, told me. "This is feeding the notion that anyone can kill a journalist and nothing will happen."

Oh yeah, and here's a tweet by President Enrique Peña Nieto:
"I reiterate our commitment to freedom of expression and press, fundamentals of our democracy."
Update: This post has been updated to reflect that at least six journalists have been murdered in Mexico this year.